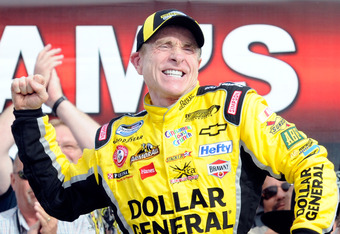 Mark "the kid" Martin led only one lap in his Turner Motorsports debut. It was the last one. Martin, who was running second on the last lap took the lead when Brad Keselowski cut a tire heading into turn one. Martin swooped in for the win finishing ahead of teammate Justin Allgaier, Keselowki and Danica Patrick. Trevor Bayne crossed the finish line fifth.
The top five took advantage of fuel milage. All made pit stops later then Carl Edwards and Denny Hamlin, who had pulled away from the field during the closing laps. Edwards and Hamlin though were forced to make an extra stop under green taking them out of contention.
The win was the 49th in the Nationwide Series for Martin.
Also making big waves was that of Danica Patrick. Patrick, like Martin, benefited from fuel strategy placing a career best 4th. Crew chief Tony Eury Jr commented after the race that he expected a top-10 finish.