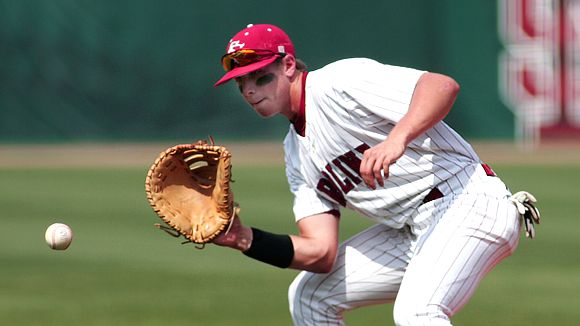 Considering just about everyone who was able to walk into Rangers camp last year got a spot on the major league roster I'll go ahead and say I'm a bit disappointed with the names I saw on their list of non roster invitees this year.
While Justin Smoak will almost certainly make his major league debut at some point this year I felt a strong urge to write about a player who will be nothing more then a fifth wheel for the team this season.
When Khali Greene's contract was voided by the Rangers it became clear that there was an opening for Joaquin Arias or Esteban German to pick up what figures to be scarce playing time in the infield and since neither has hit well and Arias is actually already on the Rangers roster I find myself writing about Smoak.
Smoak's path to Arlington is blocked by Chris Davis and Vladimir Guerrero. With Davis being pretty much only an option at second base and with Guerrero being a liability in the outfield at-bats will simply not be there for Smoak unless injury or in Davis' case poor performance strikes.
Davis' 2009 campain didn't exactly go as Ranger fans had hoped and despite the first basemen turning 24 yesterday fans were already counting down the days until Smoak (who is actually only a few months younger) arrived to the club.
Personally I think Davis is the better bet of the two at this point and going forward based on a  look at their minor league stats. Sure Davis has two more minor league seasons under his belt but you also have to remember one of them was part of last season due to his big league struggles and the other (a .277/.343/.534 campaign at Spokane) occurred in the same year he was drafted… a year younger then Smoak currently is.
I know I'll hear some flak from that from those backing Smoak but the real thing is the Texas Rangers would love to have both players as key players midway though 2010 and for the 2011 season going forward.
Smoak split last season between Rookie, Double-A and Triple-A finishing with a .290/.410/.443 line and 12 home runs. He was quite the player at Double-A Frisco but upon his promotion to Oklahoma City and the Triple-A level he wasn't quite as dominant with a slight rise in strike outs and a decrease in walks.
While these numbers are to be expected from a youngster getting accustomed to better pitching and some veterans looking to hang it also means Smoak would be best suited for a little more playing time with those players. Since the Rangers have no real need to rush this process along as long as the players they have in place produce it could be a while before Smoak cracks the big league roster this season.
But make no mistake of it should Smoak approach his minor league numbers of a year ago he'll find his way to Arlington this season.