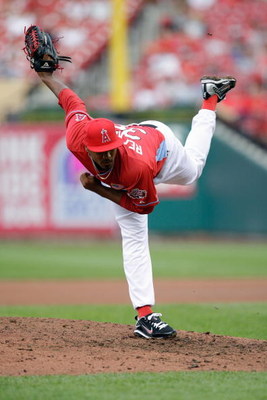 It's time to start the non roster invitee report, a yearly regular here at tireball.com. First on the list is the Los Angeles Angels who really have always provided a tough challenge for me. The Angels have one of the weaker classes of non roster invitees year in and out as there's little room for cracking the roster of this team out of spring training.
Many of the players on this list are hoping to impress for later on or are hoping to get a shot to stay around for some action in Triple-A.
With that being said the Angels haven't showed any real qualms with calling up a player from their minor leagues for a cup of coffee at any point in the season.
So with all that being said I was really tempted to just go with Robb Quinlan here as if he says around it's almost guaranteed he'd get called up at some point but I opted to go with 21-year-old pitcher Trevor Reckling.
Hank Conger and Peter Bourjous may be ranked higher then him in the prospect department but they also have more in front of them preventing them from being on the team this season.
Reckling was an 8th round pick in the 2007 draft who made his way up to Double-A last season. In 23 starts in the Texas League the youngster was 8-7 with a 2.93 ERA in 135.1 innings. The biggest concern with Reckling is that he's a little wreck-less. His strike out numbers are fair but he really had trouble with walks last season as he had a BB/9 of 5 at Double-A. In addition he threw 14 wild pitches and over three minor league seasons has hit 19 batters.
He'll need to improve on all three of those if he's to be successful in Triple-A this year and earn a call up with the Angels. Most see him projecting as a 2-3 pitcher if he can fix his kinks of course it's just as likely he'd be a 4-5 if he can't.
For fun I've went ahead and posted the entire list of Angel non roster invitees should Reckling not make it I will be able to see who did.