This weekend the NASCAR Nationwide Series (NNS) cars are headed to Iowa Speedway for the second time this season. They will be racing Saturday night prime time on ESPN.
After last weekends Indy 250, we look at Elliott Sadler who is now only one point ahead of teammate Austin Dillon for the championship. Sadler has started on the pole two out of three starts at the track and finished in the top five all three times. He finished second to Ricky Stenhouse Jr. at the Spring race.
The three quarter of a mile track (0.875) is all too familiar for Stenhouse Jr. who is eying his fourth win at the track and fourth win of the 2012 NNS season. Iowa holds a special place in Stenhouse Jr's heart since its where he earned his first pole and first win. Fastenal will be sponsoring the No. 6 Roush
Fenway Ford this weekend.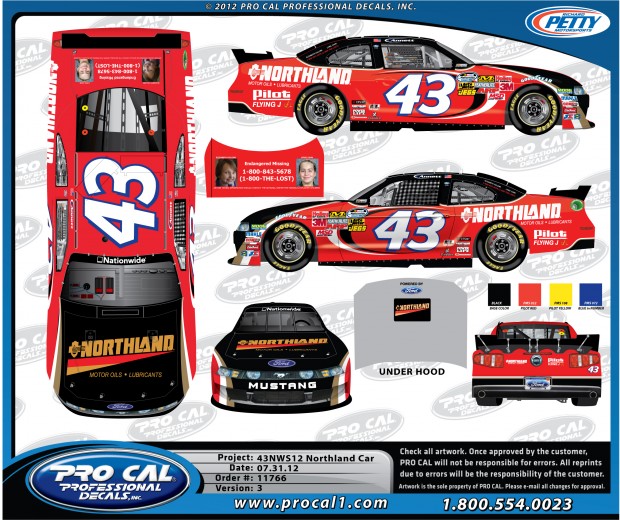 Michael Annett's car will be racing for a cause, his car will feature photos of the two missing Iowa girls that disappeared July 13 on their bicycles. The bicycles were later found near Meyers Lake in Evandale, Iowa. They are hoping that someone has seen the two girls, or know there whereabouts and will call the National Center for Missing and Exploited Children at 1-800-THE-LOST
Ryan Blaney, whose mother is from Iowa, Brett Moffitt and Darrell Wallace Jr. will all be behind the wheel of a NASCAR Nationwide Series car this weekend at Iowa Speedway.
For Blaney this will be his fifth start in Nationwide with his best finish of seventh at Richmond International Raceway (RIR) earlier this year. Moffitt will be in a car for RAB Racing. It will be his first ever NNS start. Wallace will be driving for Joe Gibbs Racing (JGR) Nationwide team. He finished ninth earlier this year at Iowa. This is Wallace's 2nd NNS career start.
Dash 4 Cash is wrapping up also this weekend at Iowa. Drivers Austin Dillon, Stenhouse, Sam Hornish Jr. and Annett all have a chance to take home the $100,000 prize. In the last five races, Annett has three top-five finishes and a sixth-place finish in last week's inaugural race at the Brickyard. He was the winner of the $100,000.
The four drivers will each be paired with a fan for the last leg of the Dash 4 Cash this weekend. In addition to the highest-placing driver receiving a $100,000 bonus, the fan paired with that driver will also win a $100,000 prize.
The only NASCAR Sprint Cup Series (NSCS) regular to be driving this weekend will be Kurt Busch who will be piloting the No.54 Kyle Busch Motorsports Monster Energy Toyota.
Without all the "Cup Regulars", teams have had to look for others to drive this weekend. The NSCS race is taking place at Pocono Raceway and that is a big reason so many will not be participating at this weekends Iowa NNS race.
The winner of Saturday nights U.S Cellular 250 gets corn. Yes, I said it CORN! So go get em' boys!
Picture: From Michael Annett Racing's Facebook Page.