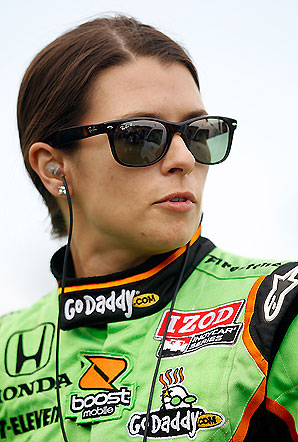 Even before Danica Patrick and GoDaddy.com formally announced that the 29 year old driver would race full time for JR Motorsports in the Nationwide Series and part time for Stewart-Hass Racing on the Cup side everyone knew.
Of course the official announcement was noting more then a publicity and picture taking activity much like when the New York Yankees sign another bat or arm over the winter months. Everyone had head the details and by now I was well past tired of hearing of postponements of this announcement.
I didn't watch the announcement. I didn't need to. In fact no one needed to. The side show is in full swing. Patrick who has raced part time in the Nationwide Series hasn't shown me she has the commitment to be a force in NASCAR. JR Motorsports hasn't shown me they have the equipment, people or brains to contend regularly either. Aside from when Dale Jr himself is in one of their cars at a super-speedway they are rarely more then a second tier car. Aric Almirola showed me more in his late year run with Richard Petty Motorsports in 2010 (following the teams release of Kasey Kahne) then he's showed me all year in the #88 Nationwide car.
Maybe I'm being too tough you say. Maybe I'm not being tough enough. Even if the abilites of JR Motorsports don't rival the Roush, Gibb or KHI cars you couldn't put many or any, save Turner Motorsports, Nationwide only teams ahead of them. Some will say that 3 of her last 5 events have resulted in top-10's. I'll just say those are the only ones of a 20 start career. For what it's worth Joe Nemechek has as many top-5's (1) and has 2 top-10's during that span. Not much more is needed to be said.
Danica is a marketing ploy. Instead of coming to see the "guy with a little head" they are seeing the woman who runs at the back of the pack.
Danica needs to run a full Nationwide schedule if she ever wants to be anything in NASCAR so I will give her credit for finally committing to the sport. But maybe I should bash everyone who had to beg her to? It's down right sad, annoying and stomach turning to see the bulk of a prerace show made up of talking about a driver who won't even be relevant.
Same on the media. I can't even blame the fans much anymore because the initial luster of Danica in NASCAR wore thin with the diehards midway though last season. It's only time before everyone who has a passing interest in the woman who drives a car also abandons.