Back in 1997 Texas Motor Speedway opened for NASCAR racing but not til this Saturday night will we have a true night race at the Sprint Cup level. The phrase "Cooler temperatures, Hotter tempers" have been thrown around a lot this week but don't expect anything even close to the hand slapping Jeff Gordon and Jeff Burton did in the fall race last year.
The three names I keep thinking about this week are Denny Hamlin, Jimmie Johnson, and Matt Kenseth.
Denny Hamlin swept both races last year but hasn't done much of anything this year.  He has to turn it around sooner or later this year and Texas is as good a bet as Martinsville was last week. In total Hamlin has made 11 starts, resulting in 5 top-5's and 8 top-10's, and 0 DNF's.
You can't ever bet against Jimmie Johnson. Johnson also has won in Texas, notched 7 top-5's and 11 top-10's. Johnson hasn't had the same domination over the competition that he has had in the past but again you never bet against Jimmie Johnson.
Finally Matt Kenseth has ran as well as anyone since the Chase started last year. After making the Chase as an after thought he raced hard in the final 8 races to climb up to fifth. This year he's rebounded for a Daytona disaster and is coming off finishes of 4, 4, and 6th. He's starting to look like the consistent driver of old again. While has win came in 2002, he's only finished outside of the top-20 once and that was due to a crash.
I couldn't wait too long to talk about Kevin Harvick. He's won the last two events on the schedule and is coming to another track he has run well at. I wouldn't expect him to run away with the race this weekend but then again he's only led 7 laps the last two weeks showing it's not about the show you put on but how you do in the show.
It's been feast or famine for Carl Edwards at Texas. Everyone mentions the 3 wins he has but he has only 1 other finish inside the top-10 in his 13 starts. Still with Edwards it's better to bet on him then against him. Until he proves otherwise he's a weekly pick much like the aforementioned Johnson.
Speaking of weekly must there's still Kyle Busch. Busch hasn't won at Texas yet and has finished inside the top-10 5 times in 12 starts. The numbers aren't sterling like you'd hope and his speed in first practice left things to be desired leaving him more lukewarm this week.
Eyes will be on Dale Earnhardt Jr and Jeff Burton for opposite reasons. Earnhardt ran second last week, is off to a great start and is coming to a track he runs great at. Burton is in a huge points hole, admitted the team needed to get things going and seems to be collected in an accident on a weekly basis. Burton has won twice (1997, 2007) but is on a long winless streak right now.
Another driver to keep an eye on is Kurt Busch. Kurt had a good practice, has been good at Texas in the past and is off to a nice start this year.
Would you believe Greg Biffle has led the most laps at Texas? Wouldn't have been my first guess but wouldn't have been too far behind either. Biffle is looking to get a tough year started in the right direction for the long run and what better place then Texas?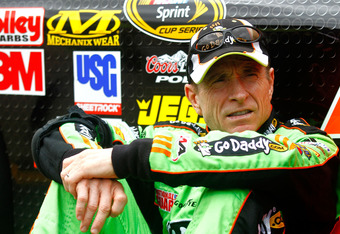 Neither Mark Martin, or Jeff Gordon were fast in the first practice on Friday. Martin opted to run in race trim and did his mock qualifying run early on. The result was his name falling down the leader board as the day went on. Gordon ran as many laps as anyone and couldn't seem to get a handle on the car. It's discouraging news for both and should cause some second thoughts.
It seems David Ragan has been on top of the leader board every week in practice. Too bad his race results haven't been nearly as good. He's up to 18th in the point standings but has just 2 lead lap finishes in his 8 starts. Things need to turn around for him but even with a fast lap on Friday he's got a lot of work to do. On the positive side he did finish 8th last week s0 maybe things are looking up?
Despite a win at Texas Ryan Newman hasn't done much else. He's notched just 2 other top-10's in 15 career starts. He's had a great start to this year and simply needs a solid finish this week to keep the momentum going.
This week Martin Truex will hold the throttle down as he has done so well in the past. The problem is he just wasn't fast in first practice.