When NASCAR implemented the top-35 rule a few years ago it was to ensure that teams who had sponsorship and were near the top of the standings would race every week. Now years later it's clear that the top-35 in owner points is more important to also-rans or at times start and park efforts.
There was a time in recent years when 43 or 44 cars would show up for a Cup race. That meant only one car was going home. Over the last few weeks the number of teams going home has grown.
Following last weekend's race at Indianapolis the #7 of Robby Gordon fell out of the top-35. It was a crucial blow to Gordon who is trying to run a stock car team as a driver/owner. With limited resources and sponsorship coming in the form of an energy drink which is also own by Gordon this is one team that cannot afford to miss weeks.
Gordon finished last at Indianapolis leaving the race with engine trouble after five laps. The #71 driven by TRG's Andy Lally took advantage of this with a 26th moving them into the top-35 which knocked Gordon down to 36th.
The difference in dollars and cents between Lally and Gordon's finish totaled only $17,844 at Indy but could be far more costly as the year goes on.
Last year the #7 car of Gordon failed to make an event at Pocono. Granted Ted Musgrave was the driver who qualified the car but the bottom line was $0 earned.
It just happens to be that this weekend is the second race at Pocono on the Sprint Cup schedule. With 47 cars entered in the field and 43 spots there will be a few teams walking out of the garage negative for the weekend. Oh yea the car which took home the lowest amount of cash earlier this year at Pocono (JJ Yeley who finished 42nd in the #46) still pocketed $63,765. That number is quite a bit larger than the difference between 26th and 43rd now isn't it?
Right now the #7 is 10 points behind the #71. Not a huge sum overall but when these cars constantly make up the back of the pack it can take weekends to catch up. To put it in perspective: Godon's #7 car has 239 points this year, Carl Edwards driving the #99 has 682: A difference of 443 points. Obviously a car like Edwards could make up a 10 point gap quickly since he averages 34.1 points a race but when you are averaging 11.95 things are not so easy.
Here's another way to read that. Gordon would need to finish 33rd this weekend if the #71 car turned into the garage after the first lap. For every position he finishes above last you can adjust Gordon's number a tick up the results page.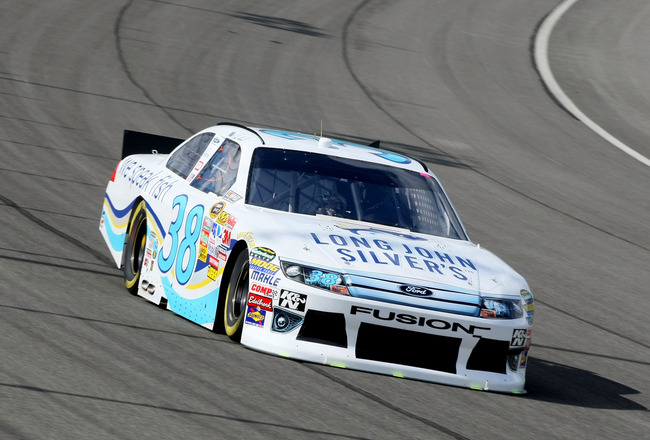 To make matters more exciting for those during the "go or go home portion" of qualifying which is mingled in with the rest of the field the #38 Bob Jenkins owned car is 13 points behind Gordon and he's missed 3 races already this year. (That averages out to 13.29 points per race)
The only other car with a chance of making the top-35 is the #21 Wood Brothers car but with them running a part time schedule (12 of 20 races started) those chances seem slim, especially considering a bulk of their points earned came with Trevor Bayne's Daytona 500 win.
In short being in the top-35 gets you to the race; it doesn't ensure you anything when it comes to next weekend. Gordon in the #7 will have to qualify on time as will the #38 which is to again be run by Travis Kvapil. Failing to make the race will only put you further behind the cut off line and in the checkbook.