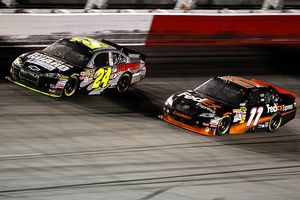 It's Darlington this weekend. It'll be tough for sure as 47 drivers are looking for a way to tame the lady in black. To start the number 47 is worth noting since multiple cars will be going home this week. In the last few weeks we have seen only one or two cars failing to make the field. Obviously the tracks proximity to multiple team shops is playing a factor here and should make for an interesting round of qualifying.
Once qualifying is done it's time to get down to the real business. The actual race.
Jeff Gordon has been a point collecting machine at Darlington. He's collected more points then anyone over the last 2-7 races but he's followed closely by Denny Hamlin who is coming off what figures to be a season altering race at Richmond. While Gordon has been free falling down the Sprint Cup points chart, Hamlin has been trying to work his way up. Last Saturday at Richmond it was Gordon being collected in a multiple car wreck that saw him hit the inside wall hard. While Gordon was behind the wall, Hamlin was trying to chance down teammate Kyle Busch. Ultimately Busch won his third straight sprint race at Richmond.
While Busch hasn't been as dominating at Darlington as he has the other half of the circuit his stats are skewed largely due to wrecks. Busch does have 3 top-10's and won the 2008 race. It's simple. If Kyle Busch is running on the last lap he can win the race. I for one believe Busch is as strong a weekly pick as anyone not named Jimmie Johnson.
We'll go ahead and get Johnson out of the way now. His average finish is 9.3, has 2 wins, 6 top-5's and 9 top-10's in 12 starts. Love him or hate him if you are making fantasy picks and you're not picking him you're a fool right now. He remains second in the NASCAR Sprint Cup standings and after everyone was questioning their team early on it's clear the #48 is back at the top of their game.
Much like Kyle Busch, Carl Edwards remains a strong pick. Edwards numbers don't jump off the chart at Darlington but he does own 4 top-10's in 7 starts with an engine failure and an accident mixed in.
Ford fans can also take solace that Matt Kenseth has run well of late at Darlington but his teammate Greg Biffle is the only current Ford driver with a win though they came in 2005 and 2006. While Kenseth has run between 3rd and 13th in his last five races, Biffle hasn't finished higher then 8th since his last win at Darlington.
Truth be told there don't seem to be any other must picks this week or even strong ones. You could put together a field of Ryan Newman and Jamie McMurray and be as good or better then the guy who picked  Dale Earnhardt Jr. and Tony Stewart.
Sure there will be a lot of "Darlington stripes" handed out but at the same time you can bet that the majority will be collected by third tier drivers like David Reutimann, Marcos Ambrose and David Ragan. The good drivers, the proven ones know how to get around this place. They will do that again this week. Some may be collected in a wreck that may not even be their fault but the fact is there isn't a lot of separation in the quality of drivers to pick this week.