Lost in the down time of a week without the Sprint Cup or Nationwide Series is this weeks Camping World Truck Series event at Darlington. The trucks will take center stage today at 5 pm EST for those looking for some type of NASCAR fix.
Kasey Kahne jumps behind the wheel of the #18 Toyota Tundra of Kyle Busch, and Elliott Sadler is behind the wheel of the #2 KHI Chevrolet Silverado. Both expect to be players this week.
In the past only former Truck Series Champions Todd Bodine and Ron Hornaday have proven to time and time again withstand the onslaught of Sprint Cup drivers and find their way to victory lane.
Matt Crafton has proven to be a top-10 finisher each week but watered down competition at the back of the field and only one career win to speak of (Charlotte 2008) there are serious questions about his viability as a champion even as he leads the points.
Teammate Johnny Sauter jumped up 9 spots following the event at Phoenix but much the same questions surround him as they do Crafton. Sauter has two career wins (Las Vegas 2009, Kasnas 2010) but will need to win a few times this year to cement himself as a top-tier driver.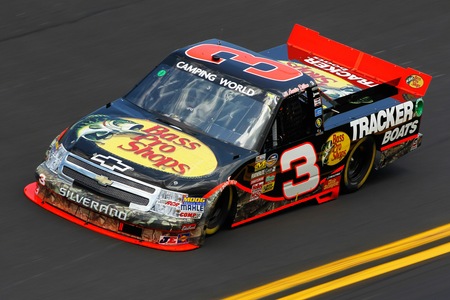 Austin Dillon may be the driver making the biggest strides in the series. Last season as a rookie he found his way to victory lane at Iowa and Las Vegas. He claimed seven poles and finished a distant fifth in the overall standings but considering only Bodine, Aric Almirola, Sauter and Crafton finished ahead of him in the final standings he figures to be around in the championship hunt when the year ends. Right now he's in sixth place only 8 points back of Crafton.
Dillions time in the truck series will be short however. He's ticketed for bigger things. He's younger then almost all of his competitors and the grandson of Cup car owner Richard Childress. If he's to ever claim the Truck Series title this may be his only chance. To do that he will have to win races this year.
It's difficult to get excited about many of the other names on the entry list this week. Ricky Carmichael is still adapting to the series, Travis Kvapil is making everyone wonder how he got a ride this year, and Timothy Peters seems to be a guy just cracking the top-10 on a weekly basis.
Until someone from the likes of Cole Witt, Parker Kligerman, James Buescher or Tayler Malsam step forward this is where the Truck series is.